Visit us in Geneva
We will be happy to welcome you to our Geneva showroom. Our entire offering is in stock and awaiting you. The choice is all yours: Our range is so extensive that you're sure to find the products best suited for your investment goals.
For detailed information about Degussa Goldhandel AG in Switzerland, our Zurich and Geneva offices and showrooms, and our online shop for customers from Switzerland, please visit our
Swiss website
Our address
DegussaGoldhandel AG
Quai du Mont-Blanc 5
1201 Genève

+41 (0)22 908 14 00
+41 (0)22 908 14 05
geneve@degussa-goldhandel.ch
Our opening hours
Montag – Freitag
Monday to Friday
9 am to 5 pm
How to find us
Shopping at your leisure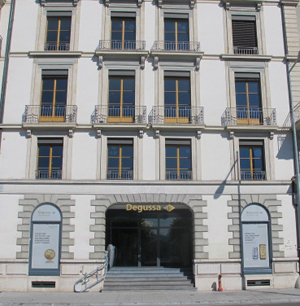 We look forward to your visit to our Geneva showroom!