Our engraving service turns your bars into personalised gifts
You want to give something of enduring value with a very personal message as a present? Or you want to mark your investment bars individually and unmistakably? The Degussa engraving service makes it possible. Just give us a call!
FOR ALL STAMPED DEGUSSA GOLD BARS AND THE 1 OZ SILVER BAR
Depending on the size of the bar, we can engrave all stamped Degussa gold bars up to 100 grams as well as the 1-ounce silver bar with up to four lines. Our consultants in the branches will be happy to help you choose the right bar and discuss the engraving details with you. We offer this service at a price of 34,90 EUR per engraved bar.
Available now in all Degussa sales offices
For questions, please feel free to call the following number:

069 860068-440
or send an e-mail to:

Gravur@degussa-goldhandel.de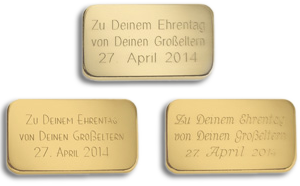 You choose the inscription and pick from one of three available fonts.
Font in the picture above: Arial.
Bottom left: Contemt. Bottom right: Baby script.
Special engravings available upon request.