The Degussa precious metals depository
Often, precious metals are stored more or less well hidden in private households. The owners are aware of the associated risks, but they are only too happy to play them down. Feeling vindicated by the positive feeling of saving "unnecessary" costs, they hope they and their treasures are safe. "Everything is going to be alright. Nothing will happen."
Unfortunately, given the ever-increasing number of property crimes, this hope is increasingly proving to be deceptive. Domestic burglaries – today often committed by organised gangs – can happen to everyone and are difficult to prevent. But even without a criminal background, an open door may tempt a saint, and forgetfulness is also an all-too-real risk factor.
If "something" actually happens, the consequence is usually a total loss because standard household insurance covers cash and precious metals only inadequately. And special insurance cover is only available if a lot of money has been invested in active and passive security beforehand.
So what can you do? Grit your teeth and hope for the best?
It is the personal responsibility of each individual to decide
how much or how little security they need to live a carefree life
and how much value they attribute to reliable security for a carefree life
With the Precious Metals Depository, Degussa offers a secure out-of-home storage option for physical precious metals at a fair price.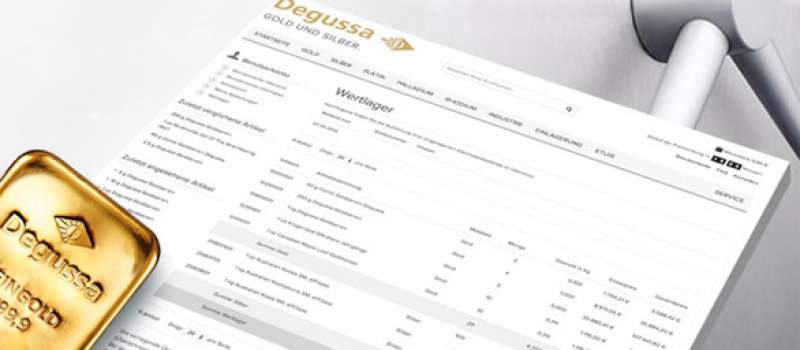 THE ADVANTAGES OF THE DEGUSSA PRECIOUS METALS DEPOSITORY AT A GLANCE
Appropriate storage in a high-security depository. Unlike private households, precious metals are fully insured against loss or damage hare.
The storage of your precious metals can be arranged upon purchase at one of our branches or Degussa Investment Shops.
The stored goods remain the property of the customer, they are unmistakably assigned to them based on individual serial numbers and can never be used to cover liabilities of Degussa – not even in the theoretical case of insolvency.
Stored items can be quickly, inexpensively, and easily be disposed of, if required. Either through resale to Degussa or physical delivery.
Through additional purchase, a personal reserve of precious metals can be continuously built up. With the "Degussa Precious Metals Depository Savings Plan" this is possible from 50,00 EUR monthly savings rate.
Bars and coins from your private stock can also be deposited in the depository.
Security for your precious metals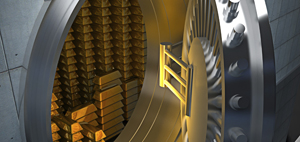 Even in the case of a sale, the Degussa
Precious Metals Depository offers great
advantages. For example, a time-consuming
authenticity check is not required