Welcome to "Numis Day" at your Degussa branch
Coins tell of great civilisations; they bring history to life. And they are of enduring value. Do you wish to put a lovingly curated collection or individual items in the best of hands and benefit from the extensive expertise of a renowned precious metals trading house? Then you have come to the right place. Every month on the occasion of our "Numis Day", we will take all the time you need to advise you at our branches.
These consultations are by appointment only and can be arranged by phone. Upcoming "Numis Days" are posted on our German website.
What is your coin worth?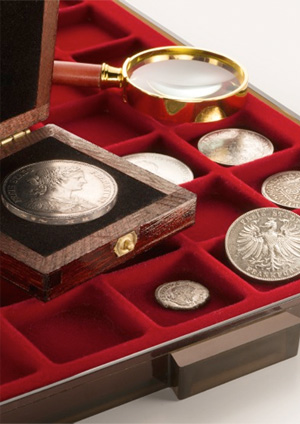 Use our wide expertise on historical coins
Coin experts Robert Eberlein and Peter Zgorzynski will be available during "Numis Days" to evaluate your coins and give you tips. They look forward to discussing the finer points of numismatics with you. You can rely on us to determine a fair market value and, on top of that, to offer other marketing options: If you wish, you can sell directly to us. Or we can jointly determine the best marketplaces for your special treasures, for example, international coin auctions or prestigious Internet platforms. If you wish, we can represent you at auctions worldwide.
Are you interested in coins as an investment? If so, our experts will be happy to advise you on Numis Day. Numismatists have been collecting historical coins for centuries, and the popularity of this pursuit has not waned.